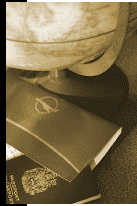 BDi Group International has provided for you some useful links relating to living and working internationally:
[Expat Exchange] - Connect with other expatriates in your new location. Explore and meet through expat news groups.

[Escape Artist] - Over 2,500 pages of resources for expats & freedom seekers.

[FAWCO] - The Federation of American Women's Clubs Overseas is a support network of over 17,000 members in 36 countries around the world.

[Expatriates in Germany] - Expat-friendly links on living and working in Germany, including everyday language, education, companies, government and entertainment.